About Our School
History | Tour & Photos | Location | Transcripts |
Faculty & Staff | Alcohol and Drug Abuse Prevention Program | Board Members
Faculty

Kim Kelly, RN, BSN, MSN
School Director/ Nurse Aide Program Director / VN Program Director
Ohio State University Bachelor of Science in Nursing 1986
Walden University Masters in Nursing Education 2013
Walden University Doctorate of Nursing Practice 2018 (Summer estimated)
Ms. Kelly is the founder of Compliance Review Services, Inc. and began the company in 1997. She graduated from Ohio State University with a Bachelor of Science in Nursing in 1986. She graduated from Walden University in 2013 with a Master's in Nursing Education. She has 20+ years of experience in the healthcare field, ranging from Administrator, to Director of Nurses, to home health agency owner. She has worked in multiple medical environments, taught at a vocational college, and developed and taught numerous educational offerings. Kim is a member of the Home Health Alliance Team, Texas Association for Health Care, and DADS external stakeholder group for rule review. She is a Texas Department of Aging and Disability Services Consultant-Monitor and currently sat on the Texas Outcome Based Quality Management coalition team. Ms. Kelly recently became an independent contractor for DADS conducting long term care quality reviews. Ms. Kelly became a Legal Nurse Consultant in 1999. She has been a consulting nurse expert and testifying nurse expert witness in both plaintiff and defense cases. In addition, Kim was inducted into the Business Who's Who in March of 2004 for her accomplishments as a small business owner. In addition, she is an honorary chairperson for small businesses through NRCC and is an external workshop member for DADS for the State of Texas.
Ms. Kelly founded the Vocational Nursing Institute with the vision to help individuals to become Licensed Vocational Nurses and Nursing Assistants. Her passion for education and assisting others provided the vision to open up this school. See her complete resume (Microsoft Word).
Outside of work, Kim enjoys spending time with her two girls. An accomplished pianist, she also likes swimming, reading, bowling, and watching movies. Kim is actively involved with her church as a bible study teacher and children's choir director. Kim is originally from Cleveland, Ohio and resided in Florida for several years. She has lived in Texas since 1995.

Janice M. Johnson-Umezulike, RN, BSN, MN, CNS, DNS
Outside NCLEX PN Reviewer/Consultant
McNeese State University for Bachelor of Science in Nursing 1984
Louisiana State University Medical Center for Masters in Nursing 1989
Louisiana State University Medical Center for Doctor in Nursing 1997
Dr. Johnson-Umezulike received her Bachelor of Science in Nursing from McNeese State University in Lake Charles, Louisiana, in 1984. She received both her Masters in Nursing and Doctor of Nursing Science from Louisiana State University Medical Center in New Orleans, Louisiana in 1989 and 1997, respectively. Since 1990, she has been a member of Sigma Theta Tau, International Honor Society of Nursing and many other professional organizations. She also serves on the Board of many professional organizations and has published a variety of nursing articles. Janice is currently a professor and continuing education instructor at Lee College in Baytown, Texas Her specialty areas are in Medical/Surgical Nursing, Education, Orthopedics, Pain and Pain Perception, Curriculum and Teaching, and Test Taking Consultation.
Since joining Compliance Review Services, Janice has submitted many educational activities to the Texas Nurses Association in which all activities were approved by the TNA. Her main role in the company is to write educational activities so that all activities can be approved by the Texas Nurses Association. In addition, Janice is also the owner of Dr. Johnson-Umez NCLEX Review Course for RNs and LVNs. (www.nclexreviewcourse.com).
Denise Garcia RN MHA
Alternate School Director
Faculty
Mercy College for BS in Nursing 1966
St. Joseph College for Masters in Health Science Administration 1998


Denise Garcia received her BS in Nursing from Mercy College of Detroit and a MS in Health Services Administration from Saint Joseph's College, Standish, Maine. She has more than 20 years experience leading and managing Home Health and Hospice Operations. She has taught at the Kaiser Foundation School of Nursing in San Francisco, California, Hahnemann Hospital School of Nursing in Worcester, Massachusetts, and Nursing concepts tutorial classes for Excelsior Distant Learning Systems in Houston, TX. She is presently a health care consultant with Compliance Review Services.
Carol Hatcher RN
Faculty
Texas Woman's University Bachelors of Science in Nursing in 1985


Carol Hatcher RN, BS is a 1985 nursing graduate of Texas Woman's University, Dallas, Texas. Past nursing experience includes medical surgical nursing at Baylor Hospital, V.A. Hospital and Doctor's Hospital in Dallas, Texas; medical surgical nursing at Tomball Regional Hospital in Tomball, Texas. Ms. Hatcher also has 7 years experience in ophthalmic nursing with a prominent retinal vitreous Dallas surgeon where she gained operating room experience. Teaching experience includes 15 years as Staff Development Coordinator with Tomball Regional Hospital, Tomball, Texas and 1 year as lab instructor for Lonestar College Tomball. Prior to becoming a nurse she was a Laboratory Technologist with experience in chemistry, hematology and electrophoresis.
Rhonda Dallas
BSA – Evening Anatomy & Physiology Adjunct Faculty
Texas Southern University Bachelors in Health care Administration and a minor in Social Work 1990


Rhonda Dallas holds a duo degree in Health Care Administration and Social work from Texas Southern University. She is also a Certified Life Coach from Coaches Institute International where she coaches people all over the United States. Ms. Dallas has coached in Houston, Oxford, and London where she led a group of Pastor's Wives in an intense coaching seminar on the importance of balance and time. She has a passion for helping others and brings with her experience in teaching Anatomy and Physiology at the College of Health Professionals.
Charelle Gallegos RN, BSN, MSN<
Faculty
Chamberlain College of Nursing for Bachelors 2011
Chamberlain College of Nursing for Masters Nursing Education 2013


Charelle is a native Houstonian and a Texas Registered Nurse. Charelle's dream of becoming a nurse began when she was a senior in high school and her grandmother mentioned that she would be a great nurse because she showed compassion and empathy for others at a young age. Charelle received her Medical Assisting Diploma in 2007. Charelle thought her education days were over until she met her husband who eagerly pushed her to return to school to become a nurse. Charelle enrolled back into school and received her Associates in Arts from Lonestar College in December of 2010. Charelle was accepted into a Bachelor of Science in Nursing (BSN) in March of 2011, and completed her degree in October of 2013. Charelle officially became a Registered Nurse in November of 2013. Charelle completed her Master' s of Science in Nursing Education in April of 2017. Charelle truly enjoys being a nurse educator and empowering nursing students. Charelle found her passion of teaching while working at a hospital and mentoring nursing students.
Tally Breitstein RN, BSN, MSN
Faculty
Schuenbrun Academic School of Nursing, Tel Aviv, Israel 1988
Tel Aviv University with BSN 1995


Born and raised n Tel Aviv, Israel. Graduated from Schuenbrun Academic School of Nursing, Tel Aviv, Israel in 1988. Graduated from Tel Aviv University with BSN in 1995. Past Nursing experience includes Neurosurgery, Pediatric ICU, Neonatal ICU, and Hospice care. 15 year of experience in Nursing education.
Sonora Pannell RN
Faculty
State Univeristy of NY for LPN 1986
UT Arlington for Masters of RN (Summer estimated)


Sonora Pannell has been a licensed nurse since 1986. Originally from Queens NY, she completed her LPN in 1985 as a participant of the BOCES program. She graduated from High School and the LPN program simultaneously in 1985. Ms. Pannell attended and graduated from State University of New York in 1988 and obtained her RN licensure in 1989. Ms. Pannell has held licensure and practiced nursing in the states of New York, Maryland, Washington D.C., Virginia and Texas. Her career path and work experience extend throughout the healthcare spectrum to include: Acute Care, Mother/Baby, Pediatrics, Correctional Nursing, Home Healthcare, Pediatric Hospice, Public Health Nursing, Long Term Care, Quality Improvement, Case Management and Managed Care Case Management. Currently Ms. Pannell owns and operates Senior Case Management Strategies (SCMS), providing community Case Management and State Compliance Training to Houston area Assisted Living, Adult Day Care and Group Home environments. Ms. Pannell is currently pursuing her Master's Degree in the RN to MSN program at UT Arlington, anticipating completion in 2018. She is excited to be included amongst the prestigious staff of Vocational Nursing Institute.
Kathy Provost, LVN
Faculty
Kathy Provost, LVN, graduated in1982 from Teche Area Vocational School as a LVN. The first 25 years she worked in a long term care setting. While continuing her career as a LVN, Ms. Provost worked 5 years as LVN agency/travel nurse. This gave her the opportunity to provide LVN services in a hospital setting to local hospitals and nursing homes, as well as in various states. Not only does she bring with her many years of experience as LVN, but experience as an instructor too. She taught as both a CNA instructor as well as a CPR instructor for 5 years. Throughout the recent years Ms. Provost has provided LVN skills by doing medical teachings to patients in a home setting, and also being the charge nurse at a long-term care facility. She has been with The Vocational Nursing Institute Inc. over a year and the students love attending clinical with her.
Brittany Stevenson RN, MSN
Faculty
University of Oklahoma Health Sciences Center for Masters of Science in Nursing Education in 2016
University of Oklahoma Health Sciences Center Bachelors of Science in Nursing in 2011


I am an Oklahoma native, i obtained my Bachelors of Science in Nursing from the University of Olkahoma in 2011. Prior to returning to my alma mater, I started travel nursing! Over the past 6 years I have worked in ICU,CCU, PCU, Telemetry, Neuro PCU, home health, stand-alone ER's, insurance, care coordination, and clinics in Oklahoma, Texas, Connecticut, and all five Boroughs of New York. While travel nursing the last 3 years I received my Masters of Science in Nursing Education and I'm currently working as a Nursing Instructor for a BSN program here in Houston. My passion coupled with my experience, drive, and expertise will contribute to your success throughout your career. The most important aspects of my teaching are grounded in educational theory and incorporates various learning strategies and techniques tailored to individual learning needs. I will provide an environment that will foster your critical thinking and reasoning skills, keep you actively engaged, and assist you in mastering content.
---
Administrative Staff
Leigh Duong
Administrative Assistant
Leigh is a graduate from the University of Houston and holds a B.B.A. from the Bauer School of Business. Leigh has a background in Marketing, Typesetting, and Data Entry. She loves reading, playing with her 3 yr old, and drinking lots of coffee.
Robin Christie
Administrative Assistant
Faculty
Robin's background is in customer service, she brings her cheerful self and welcoming personality to our team. Originally from New Jersey she moved here in 2007 for warmer weather and the medical center for her daughter. She enjoys reading, movies, day trips and spending time with her family.
Brittany Fugh
Administrative Assistant
Brittany was born and raised in Virginia Beach, Virginia. After graduating high school she went to Liberty University in Lynchburg, VA to start her Bachelors of Science degree. After moving to Houston, TX in Jan 2016, she enrolled at Liberty University Online to finish her BS in Psychology with a minor in Counseling. Her ultimate goal, after finishing her BS, is to attend the University of Houston to obtain a Masters degree in Genetic Counseling. Brittany enjoys traveling, sports, and cooking. Her main passion is helping those in need. Throughout the years she has combined her love for traveling and helping people by going on mission trips to El Salvador, Barbados, and Bahamas. In 2010 when Haiti was struck by a devastating earthquake, she went on a relief trip to lend a helping hand. Her passion for helping others is what drives her to finish school, so one day she can make a career out of helping individuals & families during difficult times.
Sahar Hindi
Administrative Assistant
Sahar's work history has been in customer service and hospitality; from managing a restaurant to supervising a hotel front desk team. Her passion is in health and fitness, and is currently pursuing the career to be a fitness instructor. Originally from Indiana; I enjoy in my free time exploring the wonderful LoneStar State.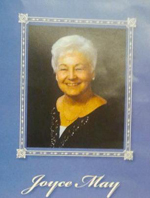 We will miss you Joyce, may you rest in peace.